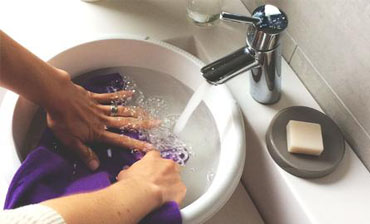 How to Hand Wash a Two Ply Cashmere Sweater
Posted in
News
By
Sunny
Sunday, December 6, 2015 6:45:46 PM America/Los_Angeles
Cashmereeaters are usually knitted from two-ply cashmere yarn, which is made by twisting together two strands of processed wool from authentic cashmere goats. This material is soft and comfortable to wear, and retains both its softness and its smooth, elegant appearance when you care for it properly. Hand-washing is the safest, easiest and most economical way for you to maintain your two-ply cashmere sweater. Two-ply cashmere is able to withstand a warm water hand wash.

Both wool and cashmere sweaters can be cared for in the same way. Wool is the fiber from a sheep, and cashmere is the fiber from an angora goat. Both fibers need to be hand-washed so that they don't felt or shrink. Proper washing and care will ensure that your sweater will last a lifetime; a high quality wool or cashmere pullover or cardigan is a classic item that can be worn season after season.

PS:I've washed cashmere sweater in a little bit of shampoo and rinsed it in conditioner. Lay flat to dry, works great. (Do not wring, roll in towel).